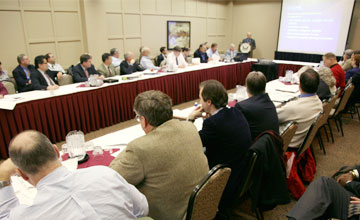 Public Meeting Schedule: Meeting Details
[
New Search
]
---
Purpose

To conduct a public scoping meeting for the Nuclear Regulatory Commission's Environmental Impact Statement (EIS) for United Nuclear Corporation's (UNC) license amendment application to authorize UNC to transfer mine waste from the North East Church Rock Mine site onto the mill tailings impoundment at the Church Rock Mill site located in McKinley County, New Mexico. At the meeting, the NRC will receive comments from the public on the appropriate scope of issues to be considered in, and the content of the EIS.

Meeting Feedback

Meeting Dates and Times

03/19/19
6:00PM - 9:00PM



Meeting Location

Gallup Community Service Center
410 Bataan Veterans Street
Gallup NM


Contact

Ashley Waldron
301-415-7317



Participation Level

Category 3

NRC Participants

NRC Staff


External Participants

Public


Docket Numbers - Facility Names

Related Documents

ML19057A506 - 03/19/2019 PUBLIC SCOPING MEETING FOR THE ENVIRONMENTAL IMPACT STATEMENT FOR THE CHURCH ROCK URANIUM MILL SITE LOCATED IN MCKINLEY COUNTY, NEW MEXICO



Comments

Interested members of the public will have approximately 3 to 5 minutes to speak depending on the number of persons who wish to participate. Members of the public may register in advance to present oral comments by contacting Ms. Antoinette Walker-Smith at (301) 415-6957, or by email to Antoinette.Walker-Smith@nrc.gov, no later than March 14, 2019.