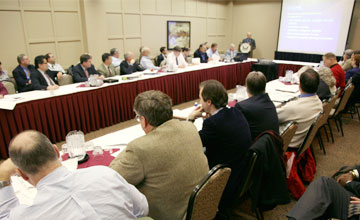 Public Meeting Schedule: Meeting Details
[
New Search
]
---
Purpose

The purpose of this meeting between Energy Northwest and the U.S. Nuclear Regulatory Commission (NRC) staff is to discuss the outline and technical details for the future emergency control room chiller system license amendment request (LAR) for Columbia Generating Station

Meeting Feedback

Meeting Dates and Times

01/17/19
1:00PM - 2:30PM



Meeting Location

NRC One White Flint North
11555 Rockville Pike
O9B6
Rockville MD


Contact

John Klos
301-415-5136

Balwant Singal
301-415-3016



Participation Level

Category 1

NRC Participants

Larry Wheeler, Office of Nuclear Reactor Regulation
John Klos, Office of Nuclear Reactor Regulation


External Participants

Desiree Wolfgramm, Energy Northwest
Richard Garcia, Energy Northwest


Docket Numbers - Facility Names

05000397 - Columbia Generating Station


Related Documents

ML19003A237 - 01/17/2019 Presubmittal Meeting with Energy Northwest to Discuss Future License AmendmentConcerning the Emergency Control Room Chiller System at Columbia Generating Station(EPID L-2019-LRM-0000)



Comments

Interested members of the public can participate in this meeting via a toll-free audio conference. Please e-mail or call the contacts below by 5 p.m. January 16, 2019, to get the telephone no. and passcode.