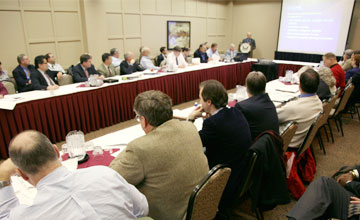 Public Meeting Schedule: Meeting Details
[
New Search
]
---
Purpose

The U.S. Nuclear Regulatory Commission (NRC) will discuss the decommissioning process for nuclear power reactors and how it relates to the Pilgrim Nuclear Power Station.

Meeting Feedback

Meeting Dates and Times

01/08/19
2:00PM - 3:30PM



Meeting Location

NRC Region I Office
2100 Renaissance Blvd, Suite 100
King of Prussia PA


Webinar

Interested members of the public can participate in this meeting via Webinar.
For details, please call the NRC meeting contact.

Contact

Neil Sheehan
610-337-5531



Participation Level

Category 3

NRC Participants

Region I


External Participants

Docket Numbers - Facility Names

05000293 - Pilgrim 1


Related Documents

ML18361A545 - 01/08/2019 - Notice of Public Webinar Meeting for Pilgrim Nuclear Power Station to Discuss the Decommissioning Process for Nuclear Power Reactors.



Comments

Interested members of the public can attend via webinar. See meeting info for details.