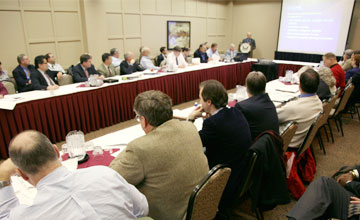 Public Meeting Schedule: Meeting Details
[
New Search
]
---
Purpose

* Meeting Canceled *

TVA requested the meeting to hold a discussion regarding the proposed modifications to Confirmatory Orders 2009 and 2017.

Meeting Feedback

Meeting Dates and Times

12/11/18
9:00AM - 11:00AM



Meeting Location

NRC Technical Training Center Osborne Office Center
5746 Marlin Road, Suite 200
Classroom 4A
Chattanooga TN


Contact

Son Ninh
404-997-4532



Participation Level

Category 1

NRC Participants

Joel Munday, Region II


External Participants

Tennessee Valley Authority


Docket Numbers - Facility Names

05000390 - Watts Bar 1
05000391 - Watts Bar 2


Related Documents

ML18325A137 - 12/11/2018 TVAs Proposed Modifications to Confirmatory Orders 2009 and 2017



Comments

Interested members of the public can participate in this meeting via a toll-free teleconference. For details, please contact the NRC meeting contact no later than December 7, 2018.