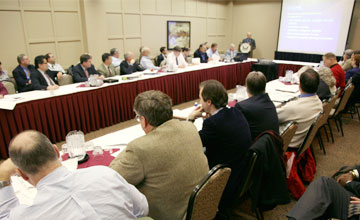 Public Meeting Schedule: Meeting Details
[
New Search
]
---
Purpose

To discuss the NRC staff perspective on the operability determination/Corrective Action Program definitions.

Meeting Feedback

Meeting Dates and Times

12/13/18
11:00AM - 3:00PM



Meeting Location

NRC Region III Office
2443 Warrenville Road, Suite 210
Lisle IL


Contact

Joe Holonich
301-415-7297

John Bozga
630-829-9613



Participation Level

Category 2

NRC Participants

Office of Nuclear Reactor Regulation
Region III


External Participants

Nuclear Energy Institute (NEI)


Docket Numbers - Facility Names

Related Documents

ML18346A702 - Public Meeting Presentation for December 13, 2018.

ML18325A125 - 12/13/2018 Meeting Between the NRC Staff and the Nuclear Energy Institute



Teleconference

Bridge Number: 3014150333
Passcode: 480327

Comments

If you want copies of any information that is not in this notice but available in advance of the meeting, please email jjh1@nrc.gov. The meeting will be conducted via Skype and the conference line listed in this notice. NOTE: ALL TIMES ARE LOCAL CHICAGO TIMES.