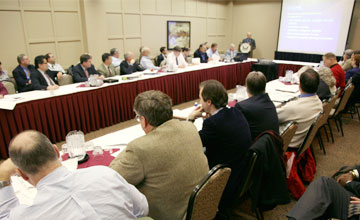 Public Meeting Schedule: Meeting Details
[
New Search
]
---
Purpose

To discuss GEH's responses to requests for additional information (RAIs) and letters associated with their application to renew the advanced boiling-water reactor design certification renewal application.

Meeting Feedback

Meeting Dates and Times

* Date/Time Change *

12/19/18
9:30AM - 11:00AM



Meeting Location

Teleconference


Contact

Adrian Muniz
301-415-4093



Participation Level

Category 1

NRC Participants

Office of New Reactors


External Participants

GE Hitachi Nuclear Energy


Docket Numbers - Facility Names

05200045 - GE Hitachi Renewal of ABWR Design Cert


Related Documents

ML18346A007 - 12/19/2018 NOTICE OF MEETING WITH GE HITACHI NUCLEAR ENERGY REGARDING OPEN ITEMS ASSOCIATED WITH THE GEH ADVANCED BOILING-WATER REACTOR DESIGN CERTIFICATION RENEWAL APPLICATION



Comments

The public is invited to join this meeting v.i.a. teleconference, please contact the meeting organizer for bridge line information by December 17, 2018. Portions of this meeting may be closed to the public if there is a need to discuss proprietary information.