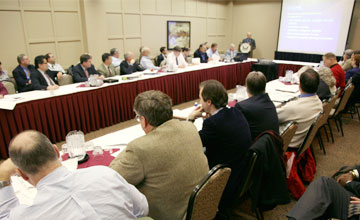 Public Meeting Schedule: Meeting Details
[
New Search
]
---
Purpose

The purpose is to discuss Exelon's license amendment request dated August 10, 2018 (Agencywide Documents Access and Management System Accession No. ML18226A097), regarding a one-time extension of technical specification 3.8.1 required action A.2.

Meeting Feedback

Meeting Dates and Times

* Date/Time Change *

11/06/18
1:00PM - 3:00PM



Meeting Location

NA


Contact

Joel S. Wiebe
301-415-6606

Bhalchandra K. Vaidya
301-415-3308



Participation Level

Category 1

NRC Participants

NRR Staff, Office of Nuclear Reactor Regulation


External Participants

David Gullott, Exelon Generation Co LLC
et. al., Exelon Generation Co LLC


Docket Numbers - Facility Names

05000454 - Byron 1
05000455 - Byron 2


Related Documents

ML18305B403 - 11/06/2018 Notice of Meeting with Exelon Generating Company, LLC

ML18226A097 - Byron Station, Units 1 and 2 - License Amendment Request for a One-Time Extension to Technical Specification 3.8.1, "AC Sources-Operating," Required Action A.2.



Comments

Members of the public who wish to attend the meeting should call the meeting contact individual to obtain the conference call information by November 6, 2018.