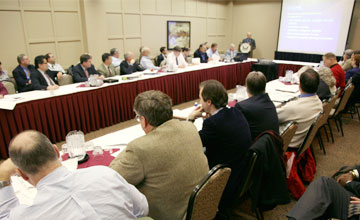 Public Meeting Schedule: Meeting Details
[
New Search
]
---
Purpose

* Meeting Canceled *

The purpose of the information sessions are to provide industry and affected individuals with the opportunity to interface with the NRC regarding the Insider Threat Program (ITP) and Security Executive Agent Directive (SEAD) 3 implementation requirements.

Meeting Feedback

Meeting Dates and Times

* Date/Time Change *

12/12/18
2:30PM - 3:30PM

11/28/18
2:30PM - 3:30PM

11/14/18
2:30PM - 3:30PM

10/31/18
2:30PM - 3:30PM

10/17/18
2:30PM - 3:30PM

10/03/18
2:30PM - 3:30PM

09/19/18
2:30PM - 3:30PM



Meeting Location

Teleconference


Webinar

Webinar Link:https://global/gotomeeting.com/join/194862901
Webinar Meeting Number:N/A
Webinar Password:N/A


Contact

Alicia
(Wil) lia-mson



Participation Level

Category 2

NRC Participants

Office of Nuclear Security and Incident Response
Office of Administration


External Participants

Docket Numbers - Facility Names

Related Documents

ML18296A246 - 09/19/2018 Bi-Weekly NRC Public Information Sessions on Insider Threat Program and Security Executive Agent Directive 3



Teleconference

Bridge Number: 8776201428
Passcode: 99851

Comments

The meetings will be bi-weekly starting on Wednesday, September 19, 2018 through Wednesday, December 12, 2018 from 2:30pm to 3:30pm. The webinar link and conference call number will remain the same for all meetings. Please check the NRC's Public Meeting website for updates or cancellations or the Point of Contact listed on this notice.