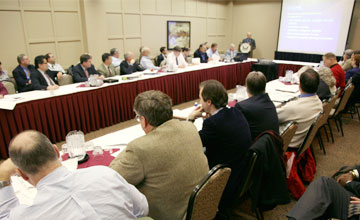 Public Meeting Schedule: Meeting Details
[
New Search
]
---
Purpose

Duke Energy Progress, LLC proposes to use an alternative test, in lieu of the containment leakage rate testing requirements, specified in the 2007 Edition with 2008 Addenda of the ASME Boiler and Pressure Vessel Code Section XI, as conditioned by 10 CFR 50.55a.

Meeting Feedback

Meeting Dates and Times

03/27/18
9:00AM - 10:00AM



Meeting Location

NRC One White Flint North
11555 Rockville Pike
08B2
Rockville MD


Contact

Martha Barillas
301-415-2760

Dennis Galvin
301-415-6256



Participation Level

Category 1

NRC Participants

Martha Barillas, Office of Nuclear Reactor Regulation


External Participants

Duke Energy


Docket Numbers - Facility Names

05000400 - Harris 1


Related Documents

ML18067A137 - 03/27/2018 Pre-submittal Meeting with Duke Energy Progress, LLC to Discuss a Proposed Relief Request from 10 CFR 50.55a related to the ASME Boiler and Pressure Vessel Code Section XI at Shearon Harris Nuclear Power Plant, Unit1.



Comments

Interested members of the public can participate in this meeting via a toll-free audio teleconference. Please call or e-mail one of the meeting contacts listed above by Monday, March 26, 2018, 5:00 p.m. (Eastern Time) to get the telephone number and the pass code.