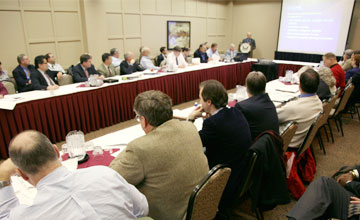 Public Meeting Schedule: Meeting Details
[
New Search
]
---
Purpose

The purpose of this meeting is to discuss the technical and licensing considerations associated with the proposed Selective Gas Extraction experimental facility for molybdenum-99 production.

Meeting Feedback

Meeting Dates and Times

02/26/18
9:00AM - 3:30PM



Meeting Location

NRC One White Flint North
11555 Rockville Pike
O7B4/O8B4
Rockville MD


Contact

Steven Lynch
301-415-1524

Geoffrey Wertz
301-415-0893

Edward Helvenston
301-415-4067



Participation Level

Category 1

NRC Participants

Steven Lynch, NRC Staff


External Participants

Les Foyto, University of Missouri Research Reactor (MURR)


Docket Numbers - Facility Names

05000186 - U. OF MO.


Related Documents

ML18038B494 - 02/26/2018 Meeting to discuss Part 2 of an Experimental Facility at the University of Missouri-Columbia Research Reactor to Produce Molybdenum-99



Teleconference

Bridge Number: 8779130280
Passcode: 19085

Comments

Portions of this meeting may be closed to the public to discuss sensitive proprietary information.