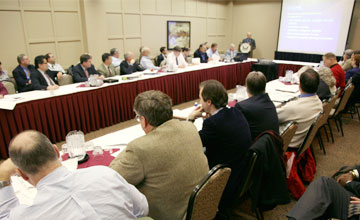 Public Meeting Schedule: Meeting Details
[
New Search
]
---
Purpose

This workshop is being held to: a) inform interested stakeholders about the status of PRE-GI-018 and related research b) review and resolve public comments received on the phase II draft test plan c) solicit and review information from industry partners regarding common equipment types and configurations to inform future testing d) provide an opportunity for public feedback on future testing

Meeting Feedback

Meeting Dates and Times

* Date/Time Change *

04/19/18
8:30AM - 5:00PM

04/18/18
8:30AM - 5:00PM



Meeting Location

NRC Three White Flint North
11601 Landsdown Street
02A14
Rockville MD


Webinar

Interested members of the public can participate in this meeting via Webinar.
For details, please call the NRC meeting contact.

Contact

Nicholas Melly
301-415-2392

Gabriel Taylor
301-415-0781

Kenneth Hamburger
301-415-2022



Participation Level

Category 3

NRC Participants

External Participants

Docket Numbers - Facility Names

Related Documents

ML18102A604 - Phase 2 Draft Test Plan 4-11-18.

ML18081B300 - High Energy Arching Fault (HEAF) Research- Needs and Objectives.

ML18103A058 - 04/18/2018 NRC HEAF Phase II Information Sharing Workshop



Comments

If you would like to attend this workshop in person, you must send an e-mail to Kenneth.Hamburger@nrc.gov with your full name, company name, and whether you are a U.S. citizen no later than 4/10/18. To join the workshop by webinar, please register at the following link: https://attendee.gotowebinar.com/register/1242327581548934657 The draft test plan and industry equipment survey are still being prepared. Both documents will be posted to this meeting notice as the date of the workshop approaches.