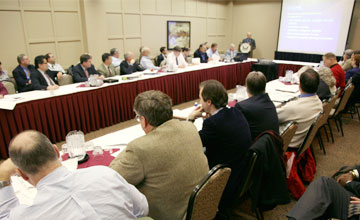 Public Meeting Schedule: Meeting Details
[
New Search
]
---
Purpose

The purpose of this meeting is to hold a discussion regarding the need for a clarification or modification request to be submitted by TVA for the 2017 Confirmatory Order (ML17208A647).

Meeting Feedback

Meeting Dates and Times

02/09/18
1:00PM - 3:00PM



Meeting Location

NRC Region II Office, Marquis One Tower
245 Peachtree Center Avenue, NE, Suite 800
Atlanta GA


Contact

Anthony Masters
404-997-4465



Participation Level

Category 1

NRC Participants

Catherine Haney, Region II
Sarah Price, Region II
Joel Munday, Region II
Mark Franke, Region II
Mark Kowal, Region II
Anthony Masters, Region II
Scott Sparks, Region II
Jared Nadel, Region II


External Participants

Tennessee Valley Authority


Docket Numbers - Facility Names

Related Documents

ML18031A146 - 02/09/2018 Tennessee Valley Authority (TVA) Requesting Public Meeting for Clarification or Possible Modification of the 2017 Confirmatory Order Requirements



Comments

Interested members of the public can participate in this meeting via a toll-free teleconference. For details, please contact the NRC meeting contact no later than February 8, 2018.