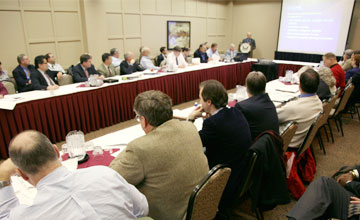 Public Meeting Schedule: Meeting Details
[
New Search
]
---
Purpose

* Meeting Canceled *

To discuss Ludeman Amendment draft license.

Meeting Feedback

Meeting Dates and Times

02/15/18
11:00AM - 1:00PM



Meeting Location

Teleconference


Contact

Elise Striz
301-415-0708



Participation Level

Category 1

NRC Participants

Office of Nuclear Material Safety and Safeguards


External Participants

Center for Nuclear Waste Regulatory Analyses
Uranium One


Docket Numbers - Facility Names

04008502 - URANIUM ONE USA, INC.


Related Documents

ML18019A226 - 02/15/2018 Uranium One Ludeman Project Amendment



Comments

Interested members of the public can participate this meeting via teleconference. For additional details, please call the NRC meeting contact(s) listed on the NRC Meeting Schedule or call the NRC's toll-free number, 1-800-368-5642, and ask the operator to be connected to the meeting contact Elise Striz or the DUWP Administrative Assistant at 301-415-7319.