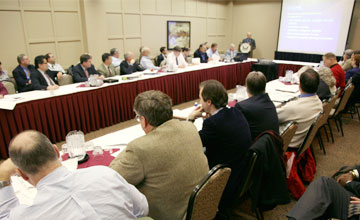 Public Meeting Schedule: Meeting Details
[
New Search
]
---
Purpose

The NRC will present progress on the Probabilistic Fracture Mechanics Guidance Development Research project. Specifically, the NRC will describe the project background and motivation, present the overall project plan and schedule, and discuss the contents of a new Technical Letter Report on "Increasing Confidence in Probabilistic Fracture Mechanics Analyses". EPRI will present industry perspectives on the development of PFM regulatory guidance for nuclear applications. The NRC also seeks to get informal public feedback on this research project.

Meeting Feedback

Meeting Dates and Times

12/12/17
8:00AM - 11:00AM



Meeting Location

NRC One White Flint North
11555 Rockville Pike
10B04
Rockville MD


Contact

Patrick Raynaud
301-415-1987



Participation Level

Category 3

NRC Participants

Raynaud, Patrick, Office of Nuclear Regulatory Research


External Participants

Raynaud, Patrick


Docket Numbers - Facility Names

Related Documents

ML17335A048 - Technical Letter Report - Important Aspects of Probabilistic Fracture Mechanics Analyses.

ML17338B136 - PFM Public Meeting Draft Agenda.



Teleconference

Bridge Number: 8005937188
Passcode: 7028194

Comments

External participants planning to attend in person should send an email to Patrick.Raynaud@nrc.gov by 12/8/17 for planning purposes, and will need to be escorted to the meeting room by NRC staff.