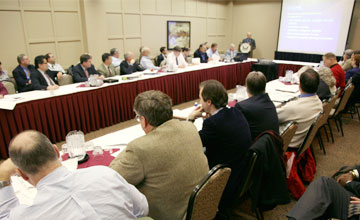 Public Meeting Schedule: Meeting Details
[
New Search
]
---
Purpose

The U.S. Nuclear Regulatory Commission is holding a webinar to discuss the revised guidance for alternative disposal requests entitled, "Guidance for the Reviews of Proposed Disposal Procedures and Transfers of Radioactive Material Under 10 CFR 20.2002 and 10 CFR 40.13(a)."

Meeting Feedback

Meeting Dates and Times

11/16/17
1:00PM - 3:00PM



Webinar

Webinar Link:https://attendee.gotowebinar.com/register/2598433335287714050
Webinar Meeting Number:877-521-2306
Webinar Password:7830937


Contact

Gregory Suber
301-415-8748



Participation Level

Category 2

NRC Participants

Office of Nuclear Material Safety and Safeguards
Office of Nuclear Reactor Regulation


External Participants

Organization of Agreement States


Docket Numbers - Facility Names

Related Documents

ML17305B763 - 11/16/2017 U.S. Nuclear Regulatory Commission Alternative Disposal Request Guidance Revision Webinar

ML17229B588 - EPPAD 3.5 R0.1 Alternative Disposal Requests Guidance Final Draft Revision Package



Teleconference

Bridge Number:
Passcode:

Comments

See this meeting announcement for details on how to access the Webinar. This Webinar will be transcribed and have a facilitated bridgeline. For additional information on this topic, please visit https://www.nrc.gov/reading-rm/doc-collections/fedreg/notices/2017.html to review the Federal Register notice (FRN) that was issued on October 19, 2017, with a comment period that closes December 18, 2017.