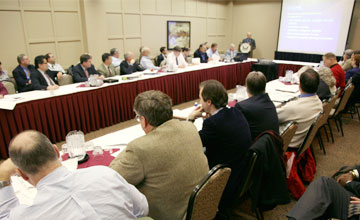 Public Meeting Schedule: Meeting Details
[
New Search
]
---
Purpose

To conduct a public scoping meeting for the NRC's Environmental Impact Statement (EIS) for Waste Control Specialist LLC (WCS) license application to construct and operate a consolidated interim storage facility (CISF) for spent nuclear fuel at the WCS site in Andrews County, Texas. At the meeting, the NRC will receive comments from the public on the appropriate scope of issues to be considered in, and the content of the EIS.

Meeting Feedback

Meeting Dates and Times

02/23/17
1:00PM - 4:00PM



Meeting Location

NRC One White Flint North
11545 Rockville Pike
Commission Hearing Room
Rockville MD


Webinar

Webinar Link:https://video.nrc.gov/
Webinar Meeting Number:None
Webinar Password:None


Contact

James Park
(301) 415-6954

Debbie Miller
(301) 415-7359



Participation Level

Category 3

NRC Participants

External Participants

Docket Numbers - Facility Names

07201050 - Waste Control Specialists LLC


Related Documents

ML17046A602 - 02/23/2017 PUBLIC SCOPING MEETING FOR THE ENVIRONMENTAL IMPACT STATEMENT FOR WASTE CONTROL SPECIALISTS LLCS APPLICATION FOR A CONSOLIDATED INTERIM STORAGE FACILITY FOR SPENT NUCLEAR FUEL, ANDREWS COUNTY, TEXAS



Teleconference

Bridge Number: (800) 619-9084
Passcode: 3009542

Comments

Members of the public who will attend the meeting in person, and those wishing to present oral comments may register in advance by contacting Mrs. Debra Miller at (301) 415-7359, or by email to Debra.Miller@nrc.gov, no later than February 21, 2017. Those comments may be limited by the time available, depending on the number of persons who wish to speak. Please provide name and company or organization for each attendee. Arrive 30 minutes early to allow time for security registration.