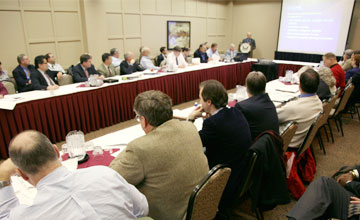 Public Meeting Schedule: Meeting Details
[
New Search
]
---
Purpose

To discuss topics associated with the following sections in Part 2 (SSAR) of TVA's early site permit application for the Clinch River Nuclear Site: 2.1 - Geography and Demography, 2.2 - Nearby Industrial, Transportation and Military Facilities, and 2.3 - Meteorology. Other topics related to the application review may also be discussed

Meeting Feedback

Meeting Dates and Times

02/13/17
1:00PM - 2:00PM



Meeting Location

Teleconference


Contact

Allen Fetter
301-415-8556

Mallecia Sutton
301-415-0763



Participation Level

Category 1

NRC Participants

Office of New Reactors


External Participants

Docket Numbers - Facility Names

Related Documents

ML17040A271 - NRC-TVA Public Meeting on February 13, 2017 - Topics For Discuss.

ML17031A388 - 02/13/2017 Notice of Forthcoming Meeting between the U.S. NRC and Tennessee Valley Authority to Discuss Topics Associated With Sections 2.1, 2.2, and 2.3 in Part 2 (SSAR) of TVA's Early Site Permit Application



Comments

Members of the public may request to call in for the meeting by contacting Allen Fetter at 301-415-8556, or via e-mail at Allen.Fetter@nrc.gov, or Mallecia Sutton at 301-415-0673 or Mallecia.Sutton@nrc.gov by 10:00 a.m. (Eastern Standard Time), February 10, 2017.