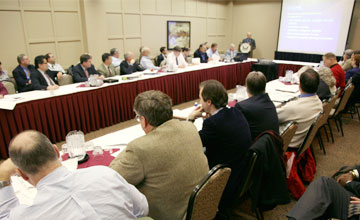 Public Meeting Schedule: Meeting Details
[
New Search
]
---
Purpose

The purpose of the meeting is to discuss the status of the Watts Bar Unit 2 Construction Project, including major milestones and potential challenges that may impact the project schedule.

Meeting Feedback

Meeting Dates and Times

04/09/14
5:30PM - 7:00PM



Meeting Location

Comfort Inn
2811 Decatur Pike
Meeting Room
Athens TN


Contact

Robert C. Haag
404-997-4446



Participation Level

Category 1

NRC Participants

Region II
Office of Nuclear Reactor Regulation


External Participants

Tennessee Valley Authority


Docket Numbers - Facility Names

05000391 - Watts Bar 2


Related Documents

ML14085A154 - 04/09/2014 PUBLIC MEETING WATTS BAR NUCLEAR UNIT 2

ML14083A389 - Watts Bar 2 Public Meeting Feedback form for Meeting Number 20140561.



Comments

The NRC's Policy Statement, "Enhancing Public Participation in NRC Meetings," effective May 28, 2002 applies to this meeting. The policy statement may be found on the NRC Website, www.nrc.gov and contains information regarding visitors and security.