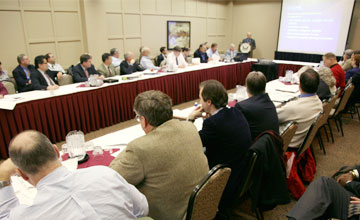 Public Meeting Schedule: Meeting Details
[
New Search
]
---
Purpose

To discuss generic license renewal topics.

Meeting Feedback

Meeting Dates and Times

09/18/14
1:00PM - 4:30PM



Meeting Location

NRC One White Flint North
11555 Rockville Pike
Commissioners Hearing Room
Rockville MD


Contact

Evelyn H. Gettys
(301) 415-4029

Albert Wong
(301) 415-3081



Participation Level

Category 2

NRC Participants

Office of Nuclear Reactor Regulation


External Participants

Electric Power Research Institute (EPRI)
Industry Representatives
Nuclear Energy Institute (NEI)


Docket Numbers - Facility Names

Related Documents

ML13330A716 - 9/18/2014 - Notice of Forthcoming Meeting between U.S. Nuclear Regulatory Commission Staff and Nuclear Energy Institute to Discuss Current License Renewal Topics.



Comments

Please call or e-mail the meeting contact prior to the meeting for call-in information.