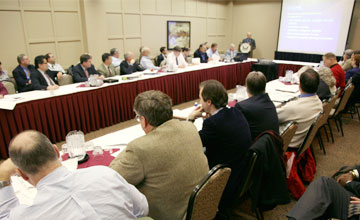 Public Meeting Schedule: Meeting Details
[
New Search
]
---
Purpose

The NRC will meet with the public to discuss the decommissioning process for commercial nuclear power reactor facilities, including at the San Onofre Nuclear Generating Station Units 2 and 3 (SONGS), and NRC's regulatory oversight of the decommissioning process.

Meeting Feedback

Meeting Dates and Times

09/26/13
6:00PM - 9:00PM



Meeting Location

Omni La Costa
2100 Costa Del Mar Road
Carlsbad CA


Contact

John Hickman
(301) 415-3017



Participation Level

Category 3

NRC Participants

Office of Federal and State Materials and Environmental Management Programs
Region IV
Office of Nuclear Reactor Regulation


External Participants

Public


Docket Numbers - Facility Names

05000361 - San Onofre 2
05000362 - San Onofre 3


Related Documents

ML13238A283 - Notice of 9/26/2013 Category 3 Public Meeting in Carlsbad, CA, To Discuss the Regulatory Framework and the Decommissioning of Previously Operating Nuclear Power Plants.

ML13268A003 - Reactor Decommissioning Process- Presentation for San Onofre 2&3 PSDAR Public Meeting.



Comments

Doors will open at 5:00 p.m. to accommodate bag checks. Self-parking is available and free of charge at this facility. This meeting will be videotaped and transcribed by the NRC.