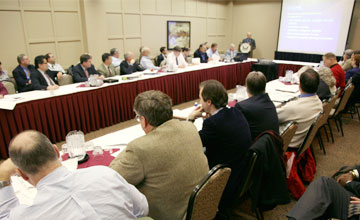 Public Meeting Schedule: Meeting Details
[
New Search
]
---
Purpose

to discuss preliminary draft changes to NUREG-0654/FEMA-REP-1, "Criteria for Preparation and Evaluation of Radiological Emergency Response Plans and Preparedness in Support of Nuclear Power Plants."

Meeting Feedback

Meeting Dates and Times

10/31/13
1:00PM - 5:00PM

10/30/13
10:00AM - 5:00PM

10/29/13
10:00AM - 5:00PM



Meeting Location

NRC Two White Flint North
11545 Rockville Pike
ACRS Hearing Room, T-2B3
Rockville MD


Contact

Carolyn Kahler
(301) 287-3722



Participation Level

Category 3

NRC Participants

Office of Nuclear Security and Incident Response


External Participants

Federal Emergency Management Agency
Public
Stakeholders


Docket Numbers - Facility Names

Related Documents

ML13193A171 - 10/29/2013 - 10/31/2013 Meeting Notice with the Nuclear Regulatory Commission (NRC), the Federal Emergency Management Agency (FEMA) and organizational stakeholders, as well as the public, To Discuss Preliminary Draft Changes To NUREG-0654/FEMA-REP 1.



Comments

Interested members of the public who are unable to travel to the meeting may view the meeting by webconference and/or participate by telephone via a toll-free teleconference.