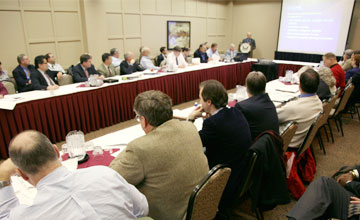 Public Meeting Schedule: Meeting Details
[
New Search
]
---
Purpose

The purpose of this webinar is to continue development of the guidance document supporting Recommendation 2.1, screening and prioritization guidance for seismic reevaluation. A complete description of Recommendation 2.1 can be found in the Near-Term Task Force (NTTF) Recommendations for Enhancing Reactor Safety in the 21st Century report, issued July 12, 2011 (Agencywide Documents Access and Management System Accession No. ML111861807).

Meeting Feedback

Meeting Dates and Times

09/21/12
10:00AM - 4:00PM



Meeting Location

NRC One White Flint North
11555 Rockville Pike
O-8B04
Rockville MD


Contact

Christopher Gratton
(301) 415-1055



Participation Level

Category 2

NRC Participants

Office of Nuclear Reactor Regulation
Office of New Reactors


External Participants

Nuclear Energy Institute (NEI)


Docket Numbers - Facility Names

Related Documents

ML12251A291 - 9/21/2012 - Forthcoming Webinar To Support Development of Guidance For Implementation of Near-Term Task Force Recommendation 2.1, Seismic Reevaluation, Related To The Fukushima Dai-ichi Nuclear Power Plant Accident.

ML12256A781 - An Approach to Assess Quality and Validity of IPEEE Analysis.

ML12256A956 - Draft SPID Guide Section 2&4 Rev 14Sept12.

ML12272A208 - Summary Of The September 21, 2012, Public Meeting On Interim Staff Guidance: Screening, Prioritization, And Implementation Details For Japan Lessons Learned Near-Term Task Force Recommendation Regarding Seismic Reevaluation.



Teleconference

Interested members of the public can participate in this meeting via a toll-free teleconference.
For details, please call the NRC meeting contact.

Comments

Please use the following information to access the teleconference bridge line and webinar:
Webinar link: https://www1.gotomeeting.com/register/743025984
Bridge line: 1-888-455-8017
Passcode: 50385
Due to the high level of interest in this topic, people who are planning to call in are strongly encouraged to inform the meeting contacts ahead of time. This will allow any necessary adjustments to the webinar and/or teleconference arrangements to facilitate participation.
To minimize the disruption from background noise, phone participants are requested to mute their line when not actively participating in the discussion. Phone lines can be muted and un-muted by pressing *6.