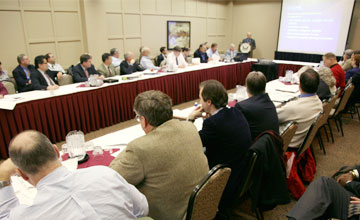 Public Meeting Schedule: Meeting Details
[
New Search
]
---
Purpose

Discuss Constellation's plans for construction and operation of ISFSIs at three sites.

Meeting Feedback

Meeting Dates and Times

09/15/09
9:00AM - 12:00PM



Meeting Location

NRC Region I
475 Allendale Road
Public Meeting Room
King of Prussia PA


Contact

Laurie Kauffman
(610) 337-5323



Participation Level

Category 1

NRC Participants

Region I


External Participants

Constellation Energy


Docket Numbers - Facility Names

05000317 - CALVERT CLIFFS 1
05000318 - CALVERT CLIFFS 2
05000220 - NINE MILE POINT 1
05000410 - NINE MILE POINT 2
05000244 - GINNA


Related Documents

ML092321087 - 09/15/2009 Notice of Public Meeting with Constellation Energy to Discuss Plans for Construction and Operation of Independent Spent Fuel Storage Installations at Three Constellation Sites.



Teleconference

Interested members of the public can participate in this meeting via a toll-free teleconference.
For details, please call the NRC meeting contact.