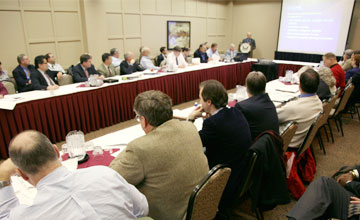 Public Meeting Schedule: Meeting Details
[
New Search
]
---
Purpose

Discuss NRC's assessment of safety performance for Peach Bottom for calendar year 2006.

Meeting Feedback

Meeting Dates and Times

04/04/07
2:30PM -


Meeting Location

Peach Bottom Inn
6085 Delta Road
Delta PA


Contact

Mel Gray
(610) 337-5209



Participation Level

Category 1

NRC Participants

Region I


External Participants

Exelon Generation Co LLC


Docket Numbers - Facility Names

05000277 - PEACH BOTTOM 2
05000278 - PEACH BOTTOM 3


Related Documents

ML070780428 - 04/04/2007 Notice of Meeting with Exelon Generating Company, LLC to Discuss the NRC's Assessment of the Safety Performance of the Peach Bottom for Calendar Year 2006.

ML070610615 - Annual Assessment Letter EOC 2006 - Peach Bottom Station (05-277-07-001 and 05-278-07-001).