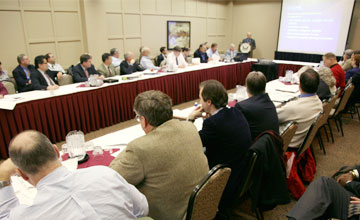 Public Meeting Schedule: Meeting Details
[
New Search
]
---
See Meeting notice

Purpose

Discuss 10 CFR 50.59 evaluations related to changes to McGuire emergency operating procedures and Updated Final Safety Analysis Report reviewed during component design basis inspection.

Meeting Feedback

Meeting Dates and Times

05/19/06
10:00AM - 12:00PM



Meeting Location

NRC Region II Office
61 Forsyth Street, S.W.
Suite 24T20
Atlanta GA


Contact

C. Ogle
(404) 562-4605



Participation Level

Category 1

NRC Participants

Office of Nuclear Reactor Regulation
Region II


External Participants

Duke Energy Corporation


Docket Numbers - Facility Names

05000369 - MCGUIRE 1
05000370 - MCGUIRE 2


Related Documents

ML061250355 - 05/19/2006 Notice of Meeting with Duke Energy Corporation to Discuss 10 CFR 50.59 Evaluations re Changes to Emergency Operating Procedures & Updated Final Safety Analysis Report That Were Reviewed During McGuire Component Design Basis Inspection.