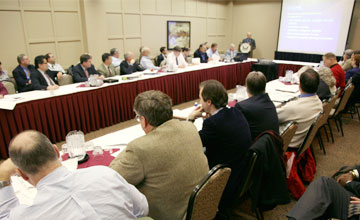 Public Meeting Schedule: Meeting Details
[
New Search
]
---
See Meeting notice

Purpose

Discuss the performance of the Shearon Harris Nuclear Power Plant.

Meeting Feedback

Meeting Dates and Times

09/08/05
9:30AM -


Meeting Location

NRC Region II Office
61 Forsyth Street SW
24T20
Atlanta GA


Contact

Paul Fredrickson
(404) 562-4530



Participation Level

Category 1

NRC Participants

Region II


External Participants

Carolina Power and Light Company


Docket Numbers - Facility Names

05000400 - HARRIS 1


Related Documents

ML052420327 - Public Meeting Announcement - Category One Meeting Progress Energy, Docket No. 50-400.