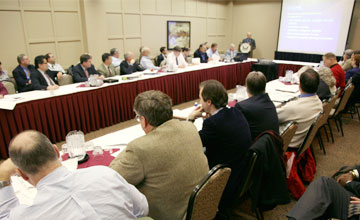 Public Meeting Schedule: Meeting Details
[
New Search
]
---
See the agenda Web page

Purpose


Discuss NRC's assessment of the safety performance of the Calvert Cliffs Nuclear Power Plant for calendar year 2004.

Meeting Feedback

Meeting Dates and Times

04/14/05
6:30PM -


Meeting Location

Holiday Inn Express
355 Merrimac Court
Prince Frederick MD


Contact

James Trapp
(610) 337-5186



Participation Level

Category 1

NRC Participants

Region I


External Participants

Constellation Generation Group


Docket Numbers - Facility Names

05000317 - CALVERT CLIFFS 1
05000318 - CALVERT CLIFFS 2


Related Documents

ML050610737 - Annual Assessment Letter - Calvert Cliffs (Report 05000317-05-001 and 05000318-05-001).

ML050760441 - 04/14/2005 Notice of Meeting With Constellation Generation Group LLC to Discuss NRC's Assessment of the Safety Performance of the Calvert Cliffs Nuclear Power Plant for Calendar Year 2004.

ML050760473 - 04/14/2005 NRC Slides for Calvert Cliffs Annual Assessment Meeting.