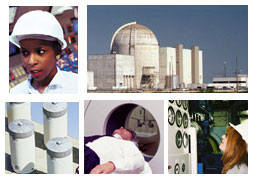 Summary of NRC Activities Regarding Digital Instrumentation and Controls
On this page:
Improvements to Review and Licensing
The NRC has taken several actions to supplement and enhance the review and licensing of safety-related digital I&C designs. The NRC
Issued Revision 2 of Regulatory Guide 1.152, "Criteria for Use of Computers in Safety Systems of Nuclear Power Plants," in January 2006;
Completed updates to the Standard Review Plan early in 2007;
Issued Regulatory Guide 1.206,"Combined License Applications for Nuclear Power Plants (draft issued as DG-1145)," in June 2007 to provide guidance regarding required information to be submitted in a combined operating license (COL) application for a nuclear power plant; and
Continues to update regulatory guides on an expedited basis to support licensing of new reactors.

Research Projects
The NRC is conducting several research projects to
augment and supplement review criteria for licensing digital I&C systems,
solicit insights from international nuclear regulators, and
build on our licensing experiences with digital I&C systems.
These include, but are not limited to, risk assessment of digital systems, highly integrated control room, diversity and defense in depth, and security aspects of digital systems.

Technical Issue Resolution
The NRC is actively working with industry groups and other stakeholders to resolve technical issues with licensing digital I&C systems. This area has been added to our Web Site to enhance stakeholder communication and participation during these ongoing efforts to develop associated regulatory guidance. Furthermore, the NRC will conduct periodic public meetings with stakeholders to review progress by the agency and industry in resolving these issues.

Page Last Reviewed/Updated Tuesday, January 02, 2018