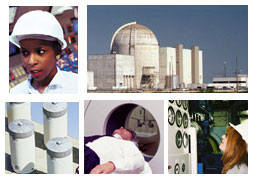 Highly Integrated Control Rooms—Human Factors
Vendors of proposed new nuclear power plant designs and modernized contol rooms for existing reactors are taking advantage of advances in digital technology to change the control room from a collection of discrete controls and analog displays to a highly integrated glass cockpit-style control room design. These technologies may include touch-screen video display devices, semi-autonomous controls, and other advanced operator interfaces and technologies.
Factors Affecting Operator Awareness and Response
Applicants should show that the following factors are suitably addressed to help the plant operator both (1) understand current plant conditions and unexpected events and (2) respond promptly and effectively to them:
physical and virtual locations of displays and controls;
the distribution of functions among display panels and backup devices;
the use of color and other graphical display attributes;
provisions for navigation among display screens;
provision of backup devices and the conditions and procedures under which they are used; and
other factors relating to the use of the control and protection systems by plant operators.
Lessons From Experience
The NRC will supplement current review guidelines and acceptance criteria to support reviews of proposed designs and also to benefit applicants preparing those designs.
One important source of acceptance criteria is the experience that regulatory agencies in other countries and the United States have gained in their reviews of highly integrated control rooms. Another source is lessons learned from operating experience within the nuclear industry and other arenas using advanced digital control and display technology.
Researchers in the Highly Integrated Control Rooms research project are surveying the approaches used by other countries and other U.S. agencies to license or certify highly integrated glass cockpit-style control rooms. The countries surveyed include France, Finland, Japan, and Korea. U.S. agencies surveyed include the National Aeronautics and Space Administration, the Federal Aviation Administration, and the Department of Defense.
The researchers will compare their survey results with the regulatory criteria now used by the NRC. The NRC will use the information gained from the survey to supplement its guidance and associated acceptance criteria for use by the NRC in confirming that integrated control room designs conform with NRC requirements.

Page Last Reviewed/Updated Tuesday, January 02, 2018
Home
About Us
Popular Documents