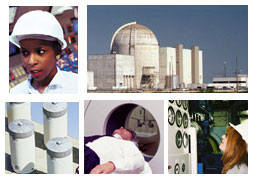 2013 Non-Licensee Actions
This page includes links to files in non-HTML format. See Plugins, Viewers, and Other Tools for more information.
Chicago Bridge & Iron (EA-12-189)
On September 16, 2013, the Nuclear Regulatory Commission (NRC) issued a Confirmatory Order to Chicago Bridge & Iron (CB&I) to formalize commitments made as a result of an ADR mediation session. CB&I agreed to these commitments as part of a settlement agreement with the NRC regarding two violations of 10 CFR 52.5, "Employee protection," for: (1) terminating a former Quality Assurance Supervisor because he/she notified another NRC licensee of potential 10 CFR Part 21 issues regarding possible faulty rebar that may have been shipped to their facility by a third party vendor; and (2) prohibitive language in the company's Corporate Code of Conduct which prohibits, restricts, or otherwise discourages an employee from participating in a protected activity including notifying an NRC licensee of matters within the NRC's regulatory responsibility.
As the result of the mediation, CB&I agreed to take a number of actions for all persons employed by CB&I, including contractors and subcontractors, excluding short term employees, who are engaged in work associated with NRC-regulated activities. Those actions include: (1) reinforcing through a written communication from CB&I's Chief Executive Officer the Company's strategy to improve its nuclear safety culture; (2) updating its nuclear safety culture and safety conscious work environment policies and documents to ensure they are consistent with and informed by NRC and industry guidance, (3) developing and/or revising the company's employee protection, nuclear safety culture and safety conscious work environment training; (4) establishing a uniform Executive Review Board process to ensure independent management review of all proposed significant adverse actions; and (5) performing tailored comprehensive nuclear safety culture assessments, including site surveys, of all CB&I nuclear business entities.
In consideration of these commitments and subject to the satisfactory completion of the conditions of the Confirmatory Order by CB&I, the NRC is exercising enforcement discretion and withdrawing the Notice of Violation and Proposed Imposition of Civil Penalties ($36,400) that was issued on April 18, 2013.
Page Last Reviewed/Updated Tuesday, September 05, 2017
Home
About Us
Popular Documents
Stay Connected