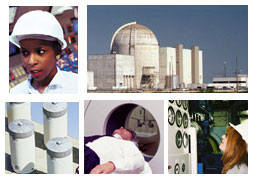 2018 Individual Actions
On December 31, 2018, the NRC issued a Notice of Violation to Mr. Brycen Roy, U.S. Geological Survey TRIGA reactor supervisor for a Severity Level III violation. Mr. Roy engaged in deliberate misconduct that caused USGS to be in violation of regulatory requirements. Specifically, on approximately April 11, 2017, Mr. Roy prepared documents indicating that all operators had completed their requalification training, as required by the Title 10 of Code of Federal Regulations (10 CFR) 55.59, when the required training had not taken place. Mr. Brycen Roy then provided these documents to an NRC inspector.

On December 10, 2018, the NRC issued a Severity Level III Notice of Violation to Mr. Ben Welch for violations of 10 CFR 50.5(a)(2) "Deliberate misconduct." Specifically, Mr. Welch submitted to the licensee information that he knew to be incomplete and inaccurate and in some respect material to the NRC. He initiated a condition report which he knew contained incomplete and inaccurate information which stated that there were suspected leaking valves in a reactor system when he well knew that his failure to perform a step in a procedure caused an inadvertent transfer of water in the system.

Mr. Craig Schneider (IA-18-035)
On October 18, 2018, the NRC issued a Notice of Violation to Mr. Craig Schneider for a Severity Level IV violation of 10 CFR 55.53(d), which requires that an operator's license is subject to and the licensee shall observe, all applicable rules, regulations, and orders of the Commission. Mr. Schneider's license states, in part, while performing licensed duties, he must observe the operating procedures and other conditions in the facility license authorizing operation of the facility. The facility licensee's procedure regarding NRC license and medical requirements stated that the individual licensee (licensed reactor operator) is responsible for notifying the facility licensee of changes in health status. Between December 20, 2016, and November 27, 2017, Mr. Schneider failed to notify the facility licensee [Quad Cities Nuclear Power Station] of prescribed medical actions by his personal physician and thereby failed to comply with a condition of his operator's license. It should be noted that, during the time duration in question, Mr. Schneider was following the prescribed actions.

Mr. Vincent Doolittle (IA 18-030)
On August 16, 2018, the NRC issued a Notice of Violation to Mr. Vincent Doolittle for a Severity Level IV violation of 10 CFR 50.5(a), Deliberate Misconduct, which caused his employer, System One, an industry/NUPIC-approved vendor/contract personnel provider to be in violation of 10 CFR 50.5(a) and to cause the affected NRC licensee(s) to be in potential violation of 10CFR50, Appendix B, Criterion IX, "Control of Special Processes," requirements. Specifically, Mr. Doolittle on/or about October 12, 2012, while the Quality Assurance Manager for System One Solutions, LLC, engaged in the forging of a training document for a nondestructive examiner, which is a violation of 10 CFR 50.5(a)(1), that resulted in the submission of an individual for employment at an NRC licensee(s) who did not meet the requirements for employment in the position assigned, which is a violation of 10 CFR 50.5(a)(2). An investigation subsequently determined that the individual did not actually conduct nondestructive examination activities on any reactor safety systems while assigned to the reactor sites although he had the documented qualifications, false as they were, to do so.

Page Last Reviewed/Updated Tuesday, April 23, 2019
Home
About Us
Popular Documents