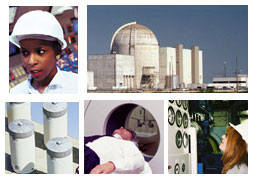 2012 Fuel Cycle Facilities
This page includes links to files in non-HTML format. See Plugins, Viewers, and Other Tools for more information.
Honeywell International Inc. (EA-12-157)
On October 10, 2012, the NRC issued a Confirmatory Order to Honeywell Metropolis Works to formalize the corrective actions committed to in the Confirmatory Action Letter (CAL) issued on July 13, 2012 (ML12198A109). In addition, Honeywell committed to (1) complete an evaluation of external events and their safety basis; (2) document the design basis for the proposed modifications; (3) develop, implement, and have available for inspection quality assurance measures for the modifications; (4) implement the modifications before seeking to resume NRC-licensed operations; (5) demonstrate the adequacy of the revised emergency response plan by conducting an onsite exercise; and, (6) submit a revised ISA Summary no later than six months after resuming licensed operations. This enforcement action was issued in lieu of a notice of violation for (1) the failure to identify all relevant accident sequences related to credible seismic events and tornadoes, that could result in large UF6 releases for which protective actions may be needed as required by 10 CFR 40.31(j)(3); and, (2) the failure to provide complete and accurate information related to Honeywell Metropolis Work's Emergency Response Plan as required by 10 CFR 40.9(a). The NRC concluded that formalizing the actions proposed by Honeywell Metropolis Works necessitated the issuance of this Confirmatory Order, consistent with Section 3.7 of the NRC's Enforcement Policy. This Confirmatory Order supersedes the CAL issued on July 13, 2012.
Global Nuclear Fuels - Americas, LLC (EA-12-013)
On April 23, 2012, a Notice of Violation was issued to Global Nuclear Fuels – Americas, LLC for a Severity Level III violation involving a significant delay in the Criticality Warning System (CWS) activation process which resulted in the failure of the CWS to be able to initiate an immediate evacuation of the facility, had an evacuation been required while special nuclear material operations were being conducted, as required by Safety Condition S-1 of its license. Specifically, between May 3 and July 17, 2011, the CWS exhibited a three minute delay before the alarm horns would sound. No actual consequences resulted from this violation because there were no incidents requiring an evacuation during this time period.

Page Last Reviewed/Updated Tuesday, September 05, 2017
Home
About Us
Popular Documents