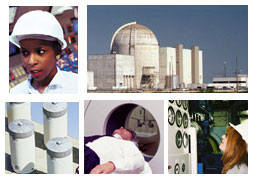 Public Meetings and Workshops About Emergency Preparedness and Repsonse
This page lists, in chronological order, the notices, slides and summaries documenting the public meetings and workshops held concerning Emergency Preparedness and Response for 2006.
This page includes links to files in non-HTML format. See Plugins, Viewers, and Other Tools for more information.
Date(s)
Description
12/19/2006

Presubmittal Conference for Proposed Emergency Plan Changes with Nuclear Management Company

11/30/2006

NRC's Presentation at the Texas Homeland Security Conference

07/19/2006

Followup Meeting with the Nuclear Energy Institute (NEI) and Industry Regarding the Review of Emergency Preparedness Regulations and Guidance for Commercial Nuclear Power Plants

05/19/2006

Followup Public Meeting with Non-Governmental Organizations on the Review of Emergency Preparedness Regulations and Guidance for Commercial Nuclear Power Plants

05/02/2006

Commission Briefing on Status of Emergency Planning Activities

03/27-30/2006

NRC's Presentations at the 2006 National Radiological Emergency Preparedness Conference in St. Louis, MO

03/07/2006


* Due to the size of this presentation, the pages are provided in sections.

Regulatory Information Conference, Emergency Preparedness Session: Lessons Learned from Hurricanes Katrina and Rita

01/18/2006

Public Meeting with Nuclear Energy Institute
Page Last Reviewed/Updated Friday, November 16, 2018
Home
About Us
Popular Documents
Stay Connected