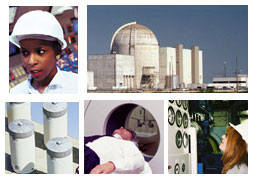 Outreach and Compliance Coordination: Limited English Proficiency (LEP) Program
The U.S. Nuclear Regulatory Commission's (NRC) Outreach and Compliance Coordination Program (OCCP) is administered by the Office of Small Business and Civil Rights (SBCR). OCCP oversees NRC's internal Domestic Limited English Proficiency (LEP) Program and external LEP Program, which have the following primary objectives:
Internal Domestic LEP Program
Lead efforts to implement NRC's LEP Plan.
Ensure awareness of Federal and NRC regulations, requirements, and knowledge and understanding of how to achieve compliance.
Ensure NRC conducted programs and activities provide meaningfully and equal access to individuals who have limited proficiency in speaking, reading, or understanding English.
Perform assessments to determine LEP populations and whether assistance needs to be considered and provided to assure LEP individuals are not denied access, participation or benefits from NRC conducted programs and activities.
Ensure that NRC management and staff are aware of the procedures for accessing language assistance resources.
Administer NRC's Domestic Translations Services Contract
External LEP Program
OCCP provides oversight and works with recipients of NRC Federal Financial Assistance to ensure that they comply with provisions imposed under Title VI of the Civil Rights Act of 1964 and Executive Order 13166, which require recipients to provide LEP individuals equal and meaningful access to their programs and activities. OCCP also works with NRC recipients to ensure they comply with NRC's Guidance to Federal Financial Assistance Recipients Regarding Title VI Prohibition Against National Origin Discrimination Affecting Limited English Proficient Persons. OCCP provides the following global (related to internal/external LEP Programs) services:
Oversight, coordination, and enforcement.
Outreach and technical assistance.
Monitor programs and activities.
Civil rights training.
Educational materials.
Informal and formal resolution.
Prepare agency progress/status reports.
For more information, please contact the OCCP Resource (301-415-7380 or TDD 301-415-5244) and consult the following publications:
NUREG/BR-0344, "Know Your Rights: Limited English Proficiency (LEP)?"
NUREG/BR-0345, "Affirming LEP Access & Compliance in Federal and Federally Assisted Programs"
Information regarding LEP-related statutes and regulations is available through NRC's website and the website administered by the U.S. Department of Justice.
Page Last Reviewed/Updated Wednesday, November 14, 2018
Home
About Us
Popular Documents
Stay Connected