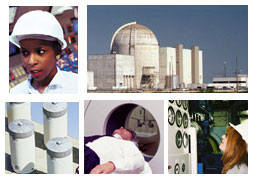 Outreach and Compliance Coordination: Environmental Justice Program
It is the policy of the U.S. Nuclear Regulatory Commission (NRC), Office of Small Business and Civil Rights (SBCR), to regulate, enforce, and ensure compliance with applicable civil rights statutes and agency regulations directed toward ensuring that no person is excluded from participation in, denied benefits of, or otherwise subjected to discrimination in NRC-conducted and financially assisted programs and activities. Consistent with that policy, the SBCR Outreach and Compliance Coordination Program (OCCP) oversees the agency's Environmental Justice Program to ensure compliance with the following related statutes and provisions:
Under the Environmental Justice Program, OCCP staff work with affected recipients of NRC Federal Financial Assistance, as well as organizations and others with an interest in environmental justice issues that substantially affect human health or the environment, or are connected to their programs and activities. In so doing, OCCP helps to leverage partnerships, promote public-private interest and participation, and assist in effectively competing for Federal-private resources. In addition, OCCP support in this area includes the following services:
Provide oversight, coordination, and enforcement.
Provide outreach and technical assistance.
Monitor programs and activities.
Conduct civil rights training.
Provide educational materials.
Provide informal and formal resolution.
Submit progress/status reports.
Page Last Reviewed/Updated Wednesday, November 14, 2018
Home
About Us
Popular Documents
Stay Connected