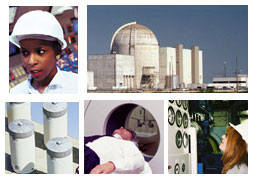 Outreach and Compliance Coordination: Age Program
The U.S. Nuclear Regulatory Commission's (NRC), Outreach and Compliance Coordination Program (OCCP) is administered by the Office of Small Business and Civil Rights (SBCR). The OCCP administers NRC's external Age Discrimination Compliance Program (EADC). OCCP provides oversight to ensure compliance with Federal and NRC regulations directed toward ensuring that no person is excluded from participation in, denied benefits of, or otherwise subjected to discrimination on the basis of age in NRC's Federal financially assisted programs and activities.
The Age Discrimination Act of 1975 mandates that age discrimination complaints be referred to mediation as part of the prescribed Federal government response. The Department of Health and Human Services (HHS) is responsible for ensuring all affected Federal agencies uniformly carry-out the Age Discrimination Act of 1975. HHS has officially designated the Federal Mediation and Conciliation Service (FMCS) to mediate age cases for Federal agencies.
Please contact OCCP immediately regarding age-based complaints. Referrals for mediation will be made to FMCS in writing using FMCS's Referral Form and sent electronically to adrreferrals@fmcs.gov.
For more information, please see OCCP Mediation (ADR) process; NRC regulations under Title10, Part 4, Subpart C, of the Code of Federal Regulations (10 CFR Part 4), or contact the OCCP Resource, or (301-415-7380 or TDD 301-415-5244).
Page Last Reviewed/Updated Wednesday, November 14, 2018
Home
About Us
Popular Documents
Stay Connected