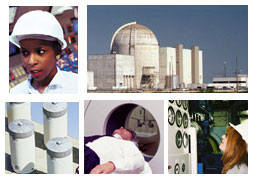 Historically Black Colleges/Universities (HBCU)
Grant Awards
In FY 11, NRC awarded $1,451,109 in grants to HBCUs. In FY 12, NRC awarded $2,658,464 ($2,015,522 in grants and $642,942 in stipends) to HBCUs. The 55% increase in awards is attributed to available funds, outreach efforts, and HBCUs effectively competing for resources.
NRC Measurable Results
NRC's measurable results include:
Voted a "Top Supporter" of HBCU Engineering Schools for the 6th consecutive year;
Requested to share MSIP "Best Practices" with Federal agencies, and at White House and Federal-public conferences: FEMA Emergency Management Institute, Alabama A&M (Entrepreneurship), Fort Valley (Energy Career Day), the MSI Research Partnership Consortium, and National Energy Institute - Nuclear Talent Taskforce meeting;
Appointees included 35 HBCU faculty, 1 high school faculty, and 20 HBCU students.
Conducted outreach including field-visits, which resulted in HBCUs achieving the cited MSIP Measurable Objectives (e.g. Morgan, Tennessee, Norfolk, South Carolina);
Collaborated with 5 HBCUs (Fisk, South Carolina, Tennessee, Oakwood, and Norfolk) to conduct 6 summer camps for K-12, which promoted nuclear STEM education and inspired student interest in STEM education and career fields;
Partnered with Jackson State University to conduct a "Boot Camp," resulting in HBCUs utilizing sound business practices, leveraging partnerships to compete for resources;
Partnered with Norfolk State University to conduct a "Veterans Transitioning to Civilian Life Program" symposium, which resulted in Federal-public collaboration around providing educational and workforce opportunities for veterans and their families;
Sponsored pre-summer symposium, which resulted in 21 HBCU and high school faculty and graduate students receiving experiential learning in conducting STEM camps;
Commended for providing Federal financial assistance to faculty and students to attend the "6th Annual State of Environmental Justice in America Conference," which allowed them to participate, and build and strengthen relationships for the purpose building collaborations to advance educational opportunities in minority communities;
Participated in recruitment activities, events and interactions with HBCU faculty and students, which resulted in awareness of NRC's mission, careers, jobs, programs, and funding opportunities; and sparked faculty and student interest in NRC, and a higher number of students applying for NRC jobs; and
Developed an 11-week seminar series on nuclear energy for students at Howard University in the Schools of Engineering, Architecture and Computer Science.
Return on NRC Education Investments
Fort Valley State University (FVSU) - Establishing a Nuclear Science and Engineering Minor at FVSU. FVSU's measurable results include:
Graduated 76 engineers, 27 geoscientists, and 7 health physicist;
Graduated 3 students from UNLV with BS degrees in health physics;
Two CDEP students were summer interns at NRC Headquarters (Health Physics);
Two students are permanent hires at NRC;
Sponsored the 2nd CDEP's 9th grade Math, Science and Engineering Academy (M-SEA) pre-college symposium held at NRC;
Fifty-five percent of CDEP scholars exceeded national average of females in STEM disciplines; and
Eighty-one percent of students are pursuing degrees in engineering disciplines, 8.3% are pursuing degrees in health physics, and 10% pursuing degrees in geology.
Howard University (HU) - Development of a new nuclear power course on safety critical applications in digital instrumentation and control. HU's measurable results include:
Thirty-nine students were trained in digital instrumentation and control;
Three graduate students presented and are published;
One graduate student completed Master of Engineering - thesis: "Analysis of Recent Emergency Diesel Generator Failure Incidents in Nuclear Power Plants;"
Eight graduate students supported by project with stipends and/or tuition support;
New course and trainings contributed to educating students in critical areas of computer control safety in nuclear energy; and
Publications: 30th International System Safety Conference, August 2012, Atlanta, Georgia, and the 7th International Symposium on Management Engineering and Informatics (IME2011).
South Carolina State University (SCSU) - Nuclear engineering and science program activities. SCSU's measurable results include:
Graduated 13 Nuclear Engineering, 7 Radiochemistry, and 1 Health Physics;
Three graduates are permanent employees of USNRC; and
Established monitoring station for airborne radio-active material as part of the Applied Radiation Sciences Laboratory (APLS) supported in part by NRC's MSIP grant assistance. The APLS is able to measure radioactive iodide and cesium from Fukushima Daiichi nuclear plant releases in Japan.
Page Last Reviewed/Updated Wednesday, November 14, 2018
Home
About Us
Popular Documents
Stay Connected