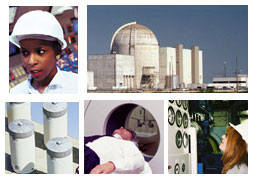 Minority Serving Institutions Program
The U.S. Nuclear Regulatory Commission (NRC) Historically Black Colleges and Universities (HBCU) program, Tribal Colleges and Universities (TCU) Program, and Hispanic Serving Institutions (HSI) was established in 2006, and is part of the agency's Minority Serving Institutions Program (MSIP). The U.S. Asian American Native American Pacific Islander Serving Institutions (AAPII) program was implemented in 2012. The MSIP is administered by NRC's Office of Small Business and Civil Rights.
The Minority Serving Institutions Program (MSIP) funds minority serving programs, activities, projects, symposiums and training for the exchange and transfer of knowledge and skills relevant to nuclear safety, security, environmental protection, or any other fields the Commission deems critical to its mission. MSIP provides assistance for minority serving programs and activities to include, but not limited to mentoring, leadership development, training, instruction, developmental learning, research and development, program evaluation, and technical assistance. MSIP also provides assistance to include direct institutional subsidies, facilities and equipment acquisition, internships, fellowships, scholarships, and tuition and housing assistance.
Goals and Measurable Objectives
The goal of MSIP and NRC offices is to help achieve the Federal Government's Science, Technology, Engineering, and Mathematics (STEM) workforce development and diversity inclusion initiatives. The MSIP's measurable objectives are to assist MSIs in their efforts to 1) achieve academic excellence, 2) build capability, capacity and infrastructure, 3) develop human capital, 4) gain knowledge and skills needed to compete for grants, cooperative agreements, contracts and resources, 5) participate in Federal and public programs, and 6) produce a diverse skilled workforce.
NRC Education Investment Programs
The MSIP partners with MSIs to achieve the cited goals and measurable objectives; The MSI Grants Program, which falls under the MSIP funds MSI projects and activities in exchange for knowledge and skill transfer;
The Office of the Human Capital Officer administers the Nuclear Education Grant Program, Trade School and Community College Grant Awards Programs, the Faculty Development Grant Awards Program, and the Scholarship and Fellowship Grants Program, which provide funds for curriculum development and training to enable new faculty to enhance their careers and to increase the skill base in the nuclear field; and
The Office of Nuclear Regulatory Research provides financial assistance to conduct research and development activities related to the nuclear regulatory field.
Please see the following programs for additional information:
Page Last Reviewed/Updated Wednesday, November 14, 2018
Home
About Us
Popular Documents
Stay Connected