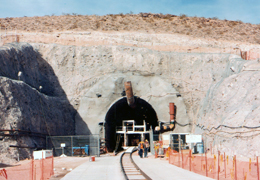 Federal Register Notices Regarding DOE's License Application for a Geologic Repository at Yucca Mountain
A variety of notices have appeared in the Federal Register, in connection with the license application that the U.S. Department of Energy (DOE) submitted to the U.S. Nuclear Regulatory Commission (NRC) on June 3, 2008, seeking authorization to construct a high-level waste geologic repository at Yucca Mountain, Nevada. For details, see the following categories on this page:
The following links are to documents in Adobe Portable Document Format (PDF), and most are provided through GPO Access, a service of the U.S. Government Printing Office. See our our Plugins, Viewers, and Other Tools page for more information. For successful viewing of PDF documents on our site please be sure to use the latest version of Adobe.
Notices Related to NRC's Review and Hearing for DOE's License Application
| Date | Description |
| --- | --- |
| 06/17/2008 | Yucca Mountain; Notice of Receipt and Availability of Application (73 FR 34348) |
| 07/16/2008 | Yucca Mountain; Notice of Receipt and Availability of Application; Correction (73 FR 40833) |
| 09/15/2008 | DOE; Notice of Acceptance for Docketing of a License Application for Authority To Construct a Geologic Repository at a Geologic Repository Operations Area at Yucca Mountain, NV (73 FR 53284) |
| 10/22/2008 | Notice of Hearing and Opportunity To Petition for Leave To Intervene on an Application for Authority To Construct a Geologic Repository at a Geologic Repository Operations Area at Yucca Mountain (73 FR 63029) |
Notices Related to Revised EPA Standards and NRC Implementing Regulations
| Date | Description |
| --- | --- |
| 10/15/2008 | Public Health and Environmental Radiation Protection Standards for Yucca Mountain, Nevada; Final Rule (73 FR 61256) |
Page Last Reviewed/Updated Tuesday, November 19, 2013