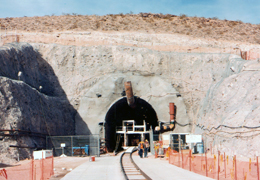 High-Level Waste Disposal Regulations, Guidance, and Communications
On this page:
Regulations
Regulations issued by the U.S. Nuclear Regulatory Commission (NRC) are found in Chapter I of Title 10, "Energy," of the Code of Federal Regulations (CFR). Chapter I is divided into Parts 1 through 199. Of these, the following are most relevant to the disposal of high-level waste (HLW) in a potential geologic repository at Yucca Mountain, Nevada:
In addition, the following resources provide valuable related information:

Guidance
Guidance documents that may prove useful to stakeholders include the following resources:
Web (HTML) versions of some guidance documents are available in the various Document Collections in the NRC's Electronic Reading Room. Some are also available in the NRC's Agencywide Documents Access and Management System (ADAMS); see our table listing their availability.

Communications
Generic communications are the NRC's primary method of sending information to specific classes of licensees. These communications may take the following forms:
At this time, there are no generic communications relevant to either HLW disposal in general, or the proposed geologic respository at Yucca Mountain, Nevada.

Page Last Reviewed/Updated Thursday, November 07, 2013