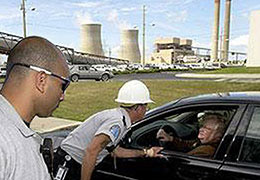 Certificate Renewal
All NSTS users with a digital certificate for access to NSTS will have to renew their digital certificate every two years to maintain their access to the NSTS. If the certificate is not renewed within the 30 day renewal window, the certificate will expire and the user will no longer have access to the NSTS. For example, if your certificate expires in December 2014, renewal will begin in November 2014; 30 days prior to your expiration date. When you renew your digital certificate, the new certificate is good for a TWO YEAR PERIOD!
Renewing your digital certificate does not require completing the entire enrollment process again! Renewal is simple, quick, and easy. Follow the steps below to renew your certificate.
Step 1: Begin the certificate renewal process for continued online access to NSTS
Before beginning the process, you will need to ensure your card reader is hooked up to your computer, and that you know your PIN. This PIN is the same PIN you use to access NSTS. If you do not remember your PIN, please call the help desk to have it reset (1-877-671-6787).

Step 2: Notifications
Help Desk Notification: You will receive an email from the NSTS Help Desk notifying you that your digital certificate will be expiring soon. No action is required on your part at this time
Email Notification—30 Day Window for Renewal: The next email you receive will be from the DCC Digital Certificate Center. This is the email that lets you know that it is time for you to download your new digital certificate. The 30 day clock for downloading starts now!
The email you receive from DCC will contain a link to the certificate renewal site.
Ensure your card reader is connected.
Insert your card in the card reader.
Select the link in the email to start the renewal process!

Step 3: Personal Identity Verification
The Personal Identity Verification: Card Administration window will be displayed.
Login using your PIN (the PIN you use to access NSTS) and select the Logon button. Several screens will flash as the information on your card is being read.
You will be prompted for your PIN a second time. Enter your PIN and select OK.
The Card Update window will display. Two certificate updates will occur at this time. This could take up to 5 minutes.
DO NOT REMOVE YOUR CARD OR CLOSE THE BROWSER WINDOW!

Step 4: Update My Card Operation Completed Window Displayed
The Update My Card operation completed window will be displayed.
At this point, the certificates have been successfully renewed!

Step 5: Logoff
Select Logoff in the top right corner. You will be returned to the login window. You can close the window and remove your smart card. Your NSTS account will need to be reactivated with the new certificate information. Please wait for an email from the NSTS Help Desk before attempting to access NSTS.

Page Last Reviewed/Updated Wednesday, January 14, 2015