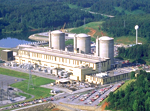 Public Meetings About Early Site Permits
Public meetings between the NRC technical staff and applicants or licensees are open for interested members of the public to attend as observers pursuant to "Commission Policy Statement on Staff Meetings Open to the Public," dated September 20, 2000. The table on this page lists dates of public meetings related to early site permits and associated materials. For a list of all future NRC public meetings, see our public meeting schedule page. Members of the public who wish to attend should contact the individual identified for the meeting of interest.
This page includes links to files in non-HTML format. See Plugins, Viewers, and Other Tools for more information.
Date

Description

02/17/05
Meeting to discuss Draft Early Site Permit Template
07/30/04

Meeting to discuss Draft Early Site Permit Template

12/18/03

Environmental Scoping Meeting for the Clinton Site ESP Application

12/08/03

Environmental Scoping Meeting for the North Anna Site ESP Application

04/01/03

Meeting to Discuss the Early Site Permit Review Process to the North Anna Site ESP Application

03/26/03

Meeting with NEI REgarding ESP Issues

03/20/03

Meeting to Discuss the Early Site Permit Review Process to the Clinton Site ESP Application

03/05/03

Meeting with NEI Regarding ESP Issues

01/29/03

Meeting with NEI Reagarding ESP Issues

12/05/02

Meeting with Nuclear Energy Institute Regarding ESP Applications

11/14/02

Meeting to Discuss the Early Site Permit Review Process to the Grand Gulf Site ESP Application

10/16/02 -
10/17/02

Meeting with Nuclear Energy Institute Regarding ESP Applications

09/25/02

Meeting with Nuclear Energy Institute Regarding ESP Issues

08/22/02

Meeting with Nuclear Energy Institute Regarding ESP Applications

07/16/02

Meeting with Nuclear Energy Institute Regarding ESP Applications

06/13/02
Meeting with Nuclear Energy Institute regarding early site permit applications
05/28/02

Meeting with Nuclear Energy Institute regarding to discuss quality assurance issues related to early site permit efforts

04/24/02

Meeting with Nuclear Energy Institute on early site permit efforts

05/15/01

Meeting with the Nuclear Energy Institute to discuss early site permit efforts (follow-up to 3/29/01)

03/29/01
Meeting with the Nuclear Energy Institute to discuss early site permit efforts

Page Last Reviewed/Updated Thursday, April 18, 2013