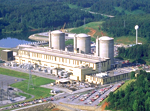 2010 NRC Documents for Vogtle, Units 3 and 4 Application
The following table provides access to documents and correspondence that the NRC has issued in 2010 in connection with its review of the COL application that SNC submitted for Vogtle, Units 3 & 4.
This page includes links to files in non-HTML format. See Plugins, Viewers, and Other Tools for more information.
| Date | Description |
| --- | --- |
| 09/03/10 | Draft Supplemental Environmental for the Combined License (COL) for Vogtle Electric Generating Plant Units 3 and 4 |
Page Last Reviewed/Updated Thursday, April 18, 2013