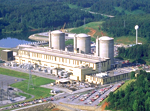 Topical and Technical Reports for the NuScale Design
This page provides access to publicly available topical and technical reports submitted by NuScale Power, LLC to the U.S. Nuclear Regulatory Commission (NRC) for review or consideration.
The topical reports submitted to the NRC will be reviewed and if approved, the NRC staff will develop a safety evaluation report of the topic detailed in the submitted report as it relates to the NuScale reactor design. The purpose of the topical report is to allow for a single NRC review of a safety-related topic that may apply to multiple nuclear power plants or plant designs.
The technical reports will be considered by the NRC staff while developing the Design-Specific Review Standard and the staff will provide feedback during meetings that discuss the details of the report. No safety evaluation report will be developed for the technical reports.
This page includes links to files in non-HTML format. See Plugins, Viewers, and Other Tools for more information.
Topical Reports
| Date | Description |
| --- | --- |
| 08/31/12 | The Dynamical System Scaling (DSS) Methodology, Revision 2 |
| 12/15/11 | Quality Assurance Program Description for Design Certification of the NuScale Power Reactor, Revision 1 |
| 02/28/11 | The Dynamical System Scaling (DSS) Methodology, Revision 1 |
| 12/31/10 | The Dynamical System Scaling (DSS) Methodology, Revision 0 |
| 10/27/10 | Quality Assurance Program Description for Design Certification of the NuScale Power Reactor, Revision 0 |

Technical Reports
| Date | Description |
| --- | --- |
| 11/07/14 | NuScale Plant Design Overview (Rev 0) |
| 01/24/14 | Critical Heat Flux Test Program Technical Report |
| 12/19/13 | Satisfaction of Appendix K Requirements for the NuScale Power Module |
| 12/13/13 | Human Factors Engineering Operating Experience Review Technical Report |
| 12/12/13 | Functional Requirements Analysis and Function Allocation Engineering Report |
| 09/20/13 | NuScale Comments on Draft Design-Specific Review Standard (DSRS) for the mPower Design |
| 09/19/13 | NuScale Plant Design Overview, Revision 2 |
| 09/18/13 | NuScale Power Plant Design for Anticipated Transients Without Scram and 10 CFR 50.62 Regulatory Compliance |
| 09/10/13 | Human Factors Engineering Project Management Plan |
| 08/30/13 | NuScale Power, LLC Submittal of the Updated NuScale MELCOR Model Data |
| 05/06/13 | Preliminary Structure, System, and Component Categorization Report |
| 01/25/13 | NuScale Module Small-Break Loss-of-Coolant Accident Phenomena Identification and Ranking Table |
| 01/18/13 | NuScale Codes and Methods Framework Description Report |
| 08/03/12 | NuScale Plant Design Overview, Revision 0 |
| 07/31/12 | Gap Analysis Summary Report |
| 07/31/12 | Instrumentation and Control Diversity and Defense-in-Depth Technical Report |
| 10/31/10 | Human Factors Engineering Analysis Phase Implementation Plan |
| 06/30/10 | Human Factors Engineering, Program Management Plan (PMP) |
| 06/25/10 | NuScale Module Small-Break Loss-of-Coolant Accident Phenomena Identification and Ranking Table, Revision 0 |
Page Last Reviewed/Updated Friday, February 27, 2015