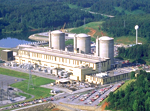 Pre-Application Review of the NuScale Design
The U.S. Nuclear Regulatory Commission (NRC) has a policy of encouraging early discussions (prior to submission of a license application) with potential applicants (such as utilities and reactor designers) to offer licensing guidance and to identify and resolve potential licensing issues early in the licensing process. Pre-application reviews are currently in progress and the Design Specific Review Standard (DSRS) for the NuScale design is being prepared to provide guidance to the NRC technical staff for review of the NuScale Design Certification Application (DCA). The NuScale DCA is currently scheduled to be submitted to the NRC the second half of 2016. The DSRS will be available for public comment mid-2015. Please see the listing of NuScale documents for additional information.
For additional information, please use the Advanced Web Search feature of our Agencywide Documents Access and Management System (ADAMS), and enter PROJ0769 in the "Docket Number" field.
Page Last Reviewed/Updated Friday, April 18, 2014