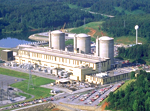 Pre-Application Documents for the NuScale Design
The U.S. Nuclear Regulatory Commission (NRC) considers public involvement in, and information about, our activities to be a cornerstone of strong, fair regulation of the nuclear industry. As such, the NRC believes that nuclear regulation should be transacted as openly and candidly as possible to maintain and enhance the public's confidence. Ensuring appropriate openness explicitly recognizes that the public must be informed about, and have a reasonable opportunity to participate meaningfully in, the NRC's regulatory processes. Toward that end, this page provides access to documents and correspondence related to the pre-application activities with NuScale Power regarding their NuScale small modular reactor (SMR) design.
This page includes links to files in non-HTML format. See Plugins, Viewers, and Other Tools for more information.
The following table provides access to publicly available letters and other pre-application correspondence between NuScale Power and NRC regarding the NuScale SMR design.
| Date | Description |
| --- | --- |
| 11/07/14 | NuScale Plant Design Overview, Revision 0 |
| 11/25/14 | Letter from NuScale to NRC, RE: NuScale Power, LLC Submittal of the "NuScale Plant Design Overview," Revision 0, RP-1114-9375 |
| 11/18/14 | Letter from NRC to NuScale, RE: Audit Plan to Review NuScale Power, LLC. Small Modular Reactor Design Data And Specifications to Assist NRC Staff in Preparing Design Specific Review Standards from November 14, 2014 To December 31, 2014. |
| 11/07/14 | NuScale Plant Design Overview, Revision 0 |
| 10/28/14 | E-mail from NRC to NuScale, RE: NuScale Topical Report resource availability and schedule |
| 10/20/14 | NuScale Letter to NRC, RE: NuScale is withdrawing the previously submitted topical report titled "Dynamical System Scaling (DSS) Methodology" (NP-L0-0712-1542, dated August 20, 2012.) |
| 10/20/14 | NuScale Letter to NRC, RE: Projected Schedule for Topical Report Submittals in Advance of Design Certification Application |
| 08/27/14 | NuScale Letter to NRC, RE: NuScale Power, LLC Submittal of the "Satisfaction of Appendix K Requirements for the NuScale Power Module," Revision 1, WP-1013-5124. (Attachment) |
| 07/31/14 | NuScale Letter to NRC, RE: NuScale Power, LLC Submittal of the "Gap Analysis Summary Report," Revision 1 |
| 07/29/14 | NuScale Letter to NRC, RE: NuScale Power, LLC Submittal of the Updated NuScale MELCOR Model Data |
| 06/24/14 | NuScale Letter to NRC, RE: NuScale Power, LLC comments on draft Design Specific Review Standard (DSRS) 5.2.5 for the mPower design, Docket ID NRC-2013-0089 |
| 06/19/14 | NuScale Letter to NRC, RE: NuScale Power Response to Regulatory Information Summary (RIS) 2014-07 |
| 06/19/14 | Letter from NRC to NuScale, RE: Schedule for Design-Specific Review Standard for NuScale Power, LLC |
| 06/05/14 | Letter from NRC to NuScale, RE: Audit Plan to Review NuScale Power, LLC. Small Modular Reactor Design Data and Specifications to Assist NRC Staff in Preparing Design Specific Review Standards from June 5, 2014 to September 30, 2014 |
| 05/30/14 | Letter from NuScale to NRC, RE: Schedule for Topical Report Submittals |
| 05/08/14 | Letter from NRC to NuScale, RE: Information Request for the Purpose of Updating the MELCOR Models For Simulation of Accidents in the NuScale Design and Assessment of NuScale Integral Effects Test |
| 05/08/14 | Letter from NRC to NuScale, RE: Schedule for Design Specific Review Standard for NuScale Power, LLC |
| 03/21/14 | Letter from NuScale to NRC, RE: Design-Specific Review Standard (DSRS) for NuScale Power, LLC |
| 03/10/14 | NuScale Power Response to Regulatory Information Summary (RIS) 2013-18, Revision 1 |
| 01/28/14 | Audit Plan to Review NuScale Small Modular Reactor Design Data and Specifications to Assist NRC Staff in Preparing DSRS, January 1, 2014 to March 31, 2014 |
| 01/28/14 | Audit Report of NuScale Rockville, MD Office October 1, 2013 to December 31, 2013 |
| 12/30/13 | NuScale Power Response to Regulatory Information Summary (RIS) 2013-18, Revision 0 |
| 12/20/13 | Audit Report of NuScale Rockville, MD Office May 28, 2013 |
| 11/06/13 | Letter from NRC to NuScale, RE: Inspection of NUSCALE'S Design Certification Testing |
| 10/02/13 | Audit Plan to Review NuScale Small Modular Reactor Design Data and Specifications to Assist NRC Staff in Preparing DSRS, October 1, 2013-December 31, 2013 |
| 09/20/13 | Letter from NuScale to NRC, RE: Comments on the Draft mPower DSRS for Development of the NuScale DSRS |
| 06/06/13 | Letter from NuScale to NRC, RE: Response to Inspection Report No. 99901418/2013-201-01 Notice of Violation |
| 06/03/13 | Audit Plan to Review NuScale Small Modular Reactor Design Data and Specifications to Assist NRC Staff in Preparing DSRS, June 1, 2013, to August 31, 2013 |
| 02/11/13 | NuScale Power Response to Regulatory Information Summary 2012-12-NRC Project No. 0769 |
| 01/28/13 | Letter from NRC to NuScale, RE: Acceptance for NRC Review of the NuScale Topical Report: Dynamical System Scaling (DSS) Methodology, Revision 2 |
| 12/06/12 | Letter from NRC to NuScale, RE: Revised Announcement Inspection of NuScale Design Certification Testing at the Stern Laboratories, Inc |
| 08/01/12 | Letter from NuScale to NRC, RE: Request for Approval of Reviewing Official in Accordance with Order Imposing Safeguards Information Protection Requirements for Access to Safeguards Information |
| 05/01/12 | Letter from NuScale to NRC, RE: Revision of Requested Review Actions for Previous Licensing Documents |
| 02/10/12 | NuScale Power Response to RIS 2011-02, Revision 1 |
| 01/09/12 | Letter from NuScale to NRC, RE: Submission of Additional Meeting Materials from NuScale Power "Resumption of Pre-Application Activities" Meeting |
| 11/04/11 | Letter from NuScale to NRC, RE: Steam Generator Information |
| 09/20/11 | Letter from NuScale to NRC, RE: Design information as requested by NSIR |
| 03/07/11 | Letter from NuScale to NRC, RE: Request for Additional Information No. 5452 |
| 02/09/11 | Letter from NRC to NuScale, RE: Request for Additional Information Letter No.1 for the Review of NuScale Topical Report: Quality Assurance Program Description for Design Certification of the NuScale Power Reactor |
| 12/09/10 | Letter from NRC to NuScale, RE: Acceptance for NRC Review of NuScale Topical Report: Quality Assurance Program Description for Design Certification of the NuScale Power Reactor, Revision 0 |
| 10/15/10 | Letter from NRC to NuScale, RE: Preparations for Design Certification Reviews |
| 09/23/10 | Letter from NuScale to NRC, RE: Updated Schedule for Third Quarter 2010 Pre-Application Submittals |
| 05/18/10 | Letter from NRC to NuScale, RE: Regarding Response to NRC RIS's 2010-01 and 2010-03 |
| 03/22/10 | Letter from NuScale to NRC, Subject: Regulatory Issue Summary 2010-03, "Licensing Submittal Information for SMR Designs." |
| 02/24/10 | Letter from NuScale to NRC, Subject: Response to NRC Regulatory Issue Summary 2010-01, "Process for Scheduling Acceptance Reviews of New Reactor Licensing Applications and Process for Determining Budget Needs for Fiscal Year 2012." |
| 02/12/10 | Letter from NuScale to NRC, Subject: Response to NRC Request for Licensing Topical Report Schedule. |
| 09/16/08 | Letter from NRC to NuScale, RE: Review Activities for the NuScale Power Reactor during Fiscal Year 2009 |
| 08/19/08 | Letter from NuScale to NRC, RE: Request to Schedule the Second Pre-Application Meeting During the First Quarter of FY 2009 |
| 01/23/08 | Letter from NuScale to NRC, RE: Pre-Application Request for Design Approval of NuScale Reactor |

Page Last Reviewed/Updated Wednesday, April 01, 2015