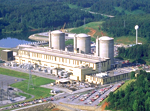 2012 Meetings for the Holtec SMR-160 Design
The following table lists, in chronological order, the meetings that staff of the U.S. Nuclear Regulatory Commission (NRC) conducted with representatives of Holtec SMR, LLC in connection with the pre-application activities associated with the Holtec SMR-160 design. To learn about future public meetings, see our Public Meeting Schedule.
This page includes links to files in non-HTML format. See Plugins, Viewers, and Other Tools for more information.
| Date | Description |
| --- | --- |
| 07/26/12 | Closed Meeting with Holtec International, SMR LLC, Regarding the Briefing on the SMR-160 Design and Systems Information. |
Page Last Reviewed/Updated Monday, August 12, 2013