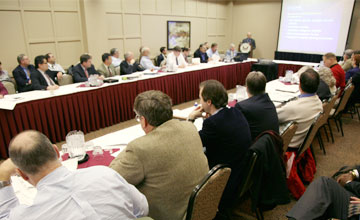 Unanswered Questions at the 2013 Fuel Cycle Information Exchange
Questions
The work hours data voluntarily supplied by and discussed with the fuel cycle industry did not identify unacceptable trends or other data or information that would provide a regulatory basis for rulemaking. Does NRC have other data or event information relevant to fuel facilities that has not been shared with industry?

Will the attractiveness portion of the Part 73 rulemaking consider potential use as a radiological dispersed device (i.e. dirty bomb) versus simply for use as an improvised nuclear device?

You both mentioned NRC's involvement with outside entities and extensive international outreach. Considering that 1. Civilian nuclear power growth is expected outside the USA and that 2. The nuclear fuel industry is global in nature and very competitive, what is the level of importance the NRC is placing on these outreach programs in terms of budget and resources in order to support/encourage alignment in safety and security standards internationally?
Answers
1 Although the MFFF CIP does not have a formal construction experience program, the MFFF CIP does use the existing infrastructure and resources established for NRO's international and domestic reactor construction experience (ConE) program. As appropriate, the MFFF CIP provides construction experience data to the ConE program.
Page Last Reviewed/Updated Thursday, November 07, 2013