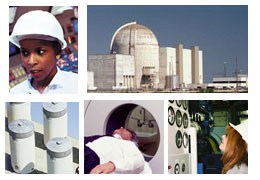 Byproduct Materials Sub-Arena
Byproduct materials comprise one of two sub-arenas that the staff of the U.S. Nuclear Regulatory Commission (NRC) identified in considering which areas of the materials safety arena to target for greater use of risk information. This page summarizes the following aspects of this sub-arena:
Objective
Utilize risk information on a case-by-case basis for byproduct material regulation, licensing, and oversight.

Basis
NUREG/CR-6642, "Risk Analysis and Evaluation of Regulatory Options for Nuclear Byproduct Material Systems," documents an assessment of risks for various byproduct material systems. (This report is not publicly available.) The assessment was used to support NRC staff activities, as described in SECY-00-0048.
In June 2001, the NRC published NUREG-1717, "Systematic Radiological Assessment of Exemptions for Source and Byproduct Material," which documents the staff's assessment of doses associated with byproduct and source material exemptions. NUREG-1717 also includes dose assessments for certain devices that are currently used under general or specific licenses that have been identified as candidates for use under exemptions. In addition, staff activities identified in SECY-07-0147, "Response to U.S. Government Accountability Office Recommendations and Other Recommendations to Address Security Issues in the U.S. Nuclear Regulatory Commission Materials Program," will address possible revisions to the agency's regulatory framework.

Goals
The staff has established the following goals for risk-informed and performance-based activities in this sub-arena:
Continue making incremental improvement (as practicable) to enhance the risk-informed and performance-based nature of rulemaking and guidance development, licensing, and oversight activities for byproduct materials.
Encourage the industry and NRC licensees to use a risk-informed and performance-based approach in demonstrating compliance with the NRC's risk/dose criteria.
Risk-Informed and Performance-Based Activities
The following table specifies the ongoing rulemaking initiatives, projects, and activities that the staff of the U.S. Nuclear Regulatory Commission (NRC) has targeted for greater use of risk information in the Byproduct Materials Sub-Arena within the Materials Safety Arena.
This page includes links to files in non-HTML format. See Plugins, Viewers, and Other Tools for more information.
Initiative, Program or Project
Project Description and Major Activities
Status
Oct 2012
Exemptions from licensing, general licenses, and distribution of byproduct material

Systematic reevaluation of exemptions from licensing in 10 CFR Parts 30 and 40

Final Rule 1, was published in 2007, effective October 17, 2007
Proposed Rule 2 was published June 24, 2010 (75 FR 36211)
Final Rule 2 was published July 25, 2012 (77 FR 43666)

More Information
To request additional information, Contact Us About Risk-Informed, Performance-Based Regulation.

Page Last Reviewed/Updated Monday, November 05, 2012