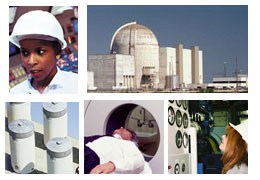 RASCAL: Radiological Assessment System for Consequence AnaLysis
The Radiological Assessment System for Consequence AnaLysis (RASCAL) code is a tool used by the Protective Measures Team in the U.S. Nuclear Regulatory Commission's (NRC's) Operations Center for making independent dose and consequence projections during radiological incidents and emergencies.  RASCAL was developed by NRC over 25 years ago to provide a tool for the rapid assessment of an incident or accident at an NRC-licensed facility and aid decision-making such as whether the public should evacuate or shelter in place.  RASCAL evaluates atmospheric releases from nuclear power plants, spent fuel storage pools and casks, fuel cycle facilities, and radioactive material handling facilities.  Its data is not the only criterion used by the local authorities during an accident, but certainly an important one.
RASCAL has been continually upgraded and improved upon to include updated source term models, atmospheric transport models, nuclear power plant site-specific data and updated computer calculation methods.
RASCAL version 4.2, which was issued in October 2011, provided for large and small updates and fixes to the RASCAL 4.0 code.  Some of these include updates to the dose conversion factors (DCFs), Source Term to Dose (STDose) models and the Field Measurement to Dose (FMDose) models and the addition of approved facility power-up rates to the facility database.

RASCAL version 4.3, which was issued in September 2013, incorporated the NRC Near Term Task Force's lessons learned on the Fukushima Daiichi nuclear power plant accident in Japan.  Some of these include updates to the atmospheric transport, dispersion and dose calculation (ATD) model to increase the RASCAL 4.3 domain from a 50 mile radius to a 100 mile radius, changes to the Source Term to Dose (STDose) models to include the option for long term station blackout (LTSBO) and 96 hour duration for the accident and the addition of Source Term Merge/Export option which allows users to assess the consequences from a multi-reactor event.
What's new — RASCAL v4.3.1 (Update)
RASCAL version 4.3.1 (update) was issued in December 31, 2014, to resolve coding issues to RASCAL version 4.3 that were identified by RASCAL users. Some of these issues include updates to the Source Term to Dose (STDose) module for reactor events and the spent fuel pool. Specifically, the STDose module for reactor events includes updates to the LTSBO (SOARCA) option, revised containment leak rate (pressure/hole) models, and updates to the LOCA (NUREG-1465) calculations. The spent fuel pool graphic user interface was changed allowing the user greater clarity of the RASCAL models used for these calculations and to aid the user with the selection of RASCAL options during a spent fuel pool event. Additionally, this update to RASCAL provides for improved source-term import, export and merge options, resolution of issues related to the ATD models and meteorological data handling, updates to the RASCAL facility database and site data files, and RASCAL software installation and other coding fixes. The RASCAL version 4.3.1 Change Log will be provided to users when they receive the updated code.
Registration to Obtain the RASCAL Code*
*Starting in March 2015, registration, code updates and a user's forum for the RASCAL code will be available thru the RAMP/RASCAL website.
Federal, State and Local Government Agencies & Academic Institutions:
The code is provided for NO FEE.
Requestors must fill out, sign, and return this non-disclosure agreement (NDA) and email it to RAMP@nrc.gov or fax to 301-251-7423.
Upon receipt of the NDA, you will receive an email with instruction on downloading the code.
Technical assistance is provided through RASCAL_Help@nrc.gov.
Domestic Commercial Organizations and International Members:
Contact RAMP@nrc.gov for instructions on obtaining the code.
Documentation for RASCAL v 4.3.1
The documentation for RASCAL 4.3.1 is currently in the process of being updated. The documentation for RASCAL 4.3 can be obtained from the links below:
Please send questions, comments, or programming errors (bugs) to RASCAL_Help@nrc.gov.

Page Last Reviewed/Updated Friday, January 30, 2015